S.U.N. = School Uniforms No

Mission

Our mission statement is an important guide for the direction of our campaign.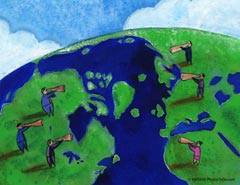 Together we can make a difference
Our Mission
Our goals are: To educate the public, and encourage you to help us, & of course to organize enough parents to stop this policy. We have until the School Board reviews the policy in March and April.
We need to stop the Uniform Policy for the following reasons:
Parents should have the right to decide what our kids wear

The economy is bad, we've already spent money for clothes for our kids - we shouldn't have to spend more for special "uniforms"

The lowest cost for a set of shirts and pants for each school day(5sets) will be $120 for one child, $240 for two kids, $360 for three kids.

Our children do not shed their constitutional rights at the school gates

"Bullys" should not be allowed to mock students based on their clothing styles, race, gender, color, religion, or anything! The District should worry more about teaching RESPECT for others then fashion.

The latest letter stated students will have "consequences" for violations of the uniform policy. What happened to the "opt-out" policy option?

Even with an "opt-out" policy the peer conflict would increase between the kids with uniforms and those who opt-out.

According to the

Pennsylvania Department of Education

there are 3,851 students enrolled, of which an average of 48% of low income. A 5% fee charged to 52% of parents hardly seems enough to support everybody of low income.

5% of purchase price will go to needy families? I consider that a 5% tax on my clothing purchases ( By law, clothing may not be taxed in Pennsylvania).

Although local "mom & pop" stores were not specifically excluded they were not mentioned. Only Target, K-Mart, Sears, & Wal-Mart were mentioned. So, this is yet another thing that will make our small local shops have a harder time staying in business against the big corporations.

Finally, after reading all of the above, if you still think the Uniform Policy will make the Lebanon School District better, you should write to congress and urge them to pass a National Uniform Policy for every U.S. citizen, including adults. If it will fix the schools, why not fix the whole country too? <sarcasm to make my point> FACT: Any parent who forces their kid to wear uniforms but thinks it would be crazy for the govt. to force all adults to wear uniforms are hypocrites.

Your support is critical. Together we can all make a difference.




You may contact the Lebanon School District's Superintendent - Marianne T. Bartley to let her know you are against the Uniform Policy by the following means: